When you're getting ready to remodel your bathroom, it doesn't take long before you realize how much is involved with making those "simple" changes you were wanting.
And if that wasn't complicated enough, you have to deal with the headaches, hassles, and commotion that comes along with having your bathroom out of commission during the remodeling process.  So let's take a look at a few design tricks that can help you stay away from the aspirin and get your bathroom finished fabulously fast!
#1 Plan your budget
Your dream bathroom can add up to way more than you want to spend in no time at all.  Those fancy faucets… the lavish tub… and to-die-for shower doors can hit your budget hard if you aren't prepared.
If you aren't sure what things cost, then check out this article at Houzz that gives you an idea of the typical costs for a basic remodel up to a deluxe: http://www.houzz.com/ideabooks/23875885/list/bathroom-workbook-how-much-does-a-bathroom-remodel-cost
#2 Take the focus off the toilet
No matter how awesome your toilet is, or how many extra features it has, it is still not the most pleasant thing to look at in your bathroom.  So it's important to find a way to make sure it's not the first thing you see when you walk into the bathroom.
This Houzz article gives you some good ideas for ideal toilet placement: http://www.houzz.com/ideabooks/14287757/list/bath-remodeling-so-where-to-put-the-toilet
#3 Know the dimensions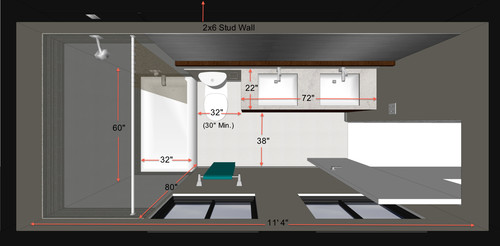 Like most remodeling projects, it's important to know how much space you have to work with, and how much space everything you want to put in there takes.
Check out more about common bathroom measurements: http://www.houzz.com/ideabooks/26567086
#4 Pick a few high-end materials that give a 'wow' factor
You don't have to use high-end materials in the entire remodel, but you can splurge on a few items that will make the space feel amazing.  Pay attention to fixtures like your faucets, floor coverings, and countertops for your vanity.  These items stand out a lot in your design, so making sure they really stand out can go a long way.