The Icon is the industry's largest wood-burning fireplace. Its beauty is highlighted by expansive viewing areas and authentic masonry looks. Let the fire roar with the Icon in the room.
36″, 42″ or 50″ viewing area
Choose bi-fold or cabinet style door options
Clean design allows finishing materials to be applied up to the firebox opening
Our Limited Lifetime Warranty is the strongest and most comprehensive in the industry.
Specification Images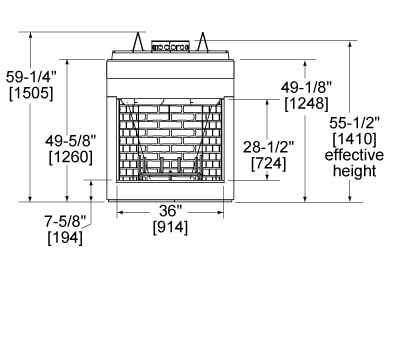 Model Specifications
ICON 60 36″ Woodburning Fireplace
| | |
| --- | --- |
| Appliance Width: | 44-1/2″ |
| Appliance Height: | 59-1/4″ |
| Appliance Depth1: | 27-1/2″ |
| Appliance Rear Width: | 28-5/8″ |
| Framing Height: | 59-3/4″ |
| Framing Depth: | 28″ |
| Framing Front Width: | 45-1/2″ |
| Framing Back Width: | 45-1/2″ |
| Viewing Area: | 36 x 28-1/2″ |
ICON 80 42″ Woodburning Fireplace
| | |
| --- | --- |
| Appliance Width: | 50-1/2″ |
| Appliance Height: | 59-1/4″ |
| Appliance Depth1: | 27-1/2″ |
| Appliance Rear Width: | 34-1/2″ |
| Framing Height: | 59-3/4″ |
| Framing Depth: | 28-1/2″ |
| Framing Front Width: | 51-1/2″ |
| Framing Back Width: | 51-1/2″ |
| Viewing Area: | 42 x 28-1/2″ |
ICON 100 50″ Woodburning Fireplace
| | |
| --- | --- |
| Appliance Width: | 60-5/8″ |
| Appliance Height: | 70-1/2″ |
| Appliance Depth1: | 29-1/2″ |
| Appliance Rear Width: | 41-5/8″ |
| Framing Height: | 71″ |
| Framing Depth: | 30-1/2″ |
| Framing Front Width: | 61-5/8″ |
| Framing Back Width: | 61-5/8″ |
| Viewing Area: | 50 x 33″ |